⭐ Check this new highly pigmented creamy solid pudding gel polish out!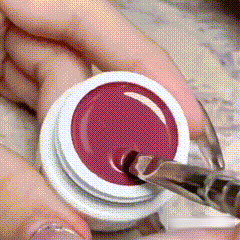 ⭐ Features:
High Density Glitters & One-stroke
Non-floating & Silky Texture
Easy to Store & Apply
Suitable for Holiday & Daily Nail Designs
Long-lasting & Wonderful Gift Choice
⭐ How to Use:
1. Clean your nails then trimming nail surface as normal nail prep process.
2. Apply a thin layer of base coat and cure for 60s.
3. Use a UV gel brush to take out some solid gel polish from the jar.
4. Gently brush it on your nails starting from the free edge and cure for 60s.
5. Apply a thin layer of top coat and cure for 60s.
6. Enjoy a 20+ days long-lasting manicure.
⭐ Tips:
1. Wet the UV gel brush with a little base coat before applying will make it easier to apply and come out with better effect.
2. Any base & top coat can be used.
3. You can apply several color coats to achieve your desired effect.
4. Do not stir your solid gel polish, or it will become sticky and floating.
5. Keep tightly sealed. Keep out of sunlight. Keep out of reach of children.
⭐ Package Includes:
6 x Solid Gel Polish (5g/box)
1 X Brush